This machine is with sturdy structure with thick frame to enhance the stability of produciton.Machine complies with pneumaitc air shaft for unwind and rewinding for easy unloaidng/loading material and products roll.
It Works with the selected meter counter unit,The magnetic powder clutch break system is with 50N.m for secure the accurate length control.Automatic tensioner system is for good tension control,it can result good glossy/smooth product with right tension.
Machine is multi-functional ideal for slitting and rewinding different non woven,spunlace non woven,PP non woven,PET non woven,viscose non woven etc.
Main data:
Name:Nonwoven fabrics slitter rewinder machine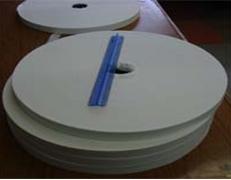 Model:PPD-NW1300
Material:nonwoven
Max width of jumbo roll:1300/1800/2500/3500mm
Jumbo roll ID:3'
Jumbon roll OD:1200mm
Slitting roll width:20-max web width
Slitting roll ID:76mm on request
Slitting roll OD:600/800mm on request
Speed:300m/min
Power:2.8kw
Voltage:220/240/380/415/450v
Frequency:50 or 60Hz
Tips:Any different specification requires,please contact our sales rep for a customize model.